Welcome Home
Basata Homes is a Real Estate and Management company serving the Northern Virginia community for several years.  Working with Basata Homes means peace of mind. Every home we work on belongs to a neighbor, so we take special care to make yours perfect. Our local tradesmen, vetted for decades, can be trusted to do things right the first time and will always be available to make sure your home meets your exacting standards.  You can use our design, modify it to your specifications, or start over from scratch. Whatever you decide, we'll make sure your new home or special project is a special place to build amazing memories.
Simplicity is in our name, and we take pride in it with each step of the project.
Explore the possibilities of your project.
Upcoming Project
2423 N 16th St. Arlington, VA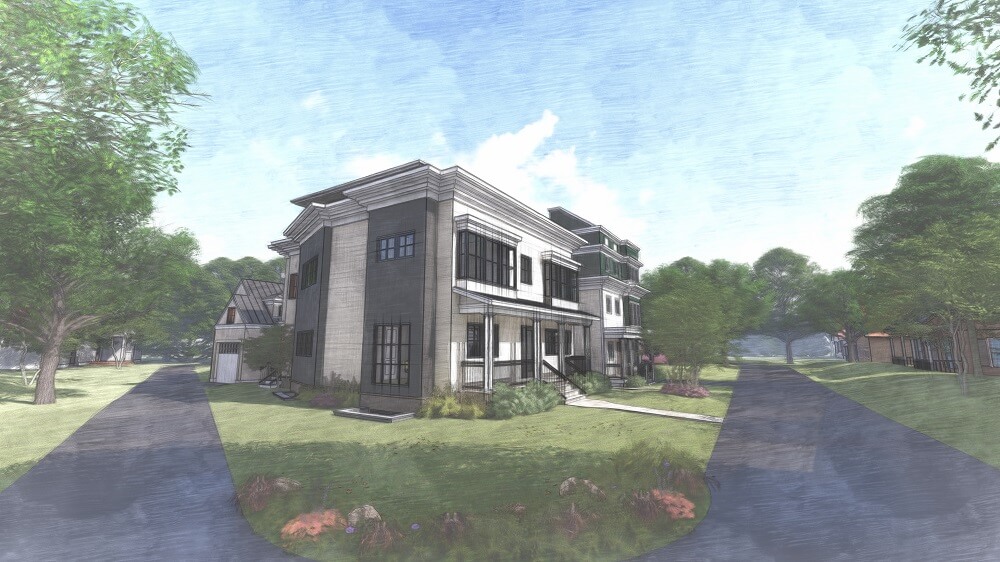 Welcome to the good life! Basata Homes presents a rare opportunity to build your dream home in the heart of the exciting Clarendon-Courthouse neighborhood. Walk to restaurants, movies and night spots or take a quick Uber or metro ride to DC for sports, cultural events or entertainment. Less time commuting means more free time to discover all the area has to offer.
And when you want to stay home, you'll be living in luxury. Our design includes nearly 5,000 square feet of living space. An open floor plan and an expansive rooftop deck offer relaxed family living and elegant entertaining. Six spacious bedrooms include a master suite plus three more bedrooms on the second level to keep the family close. Tucked away on the third level is a home office with a bedroom-bath suite—the perfect hideaway for work-from-home opportunities. And when guests visit, the bedroom on the lower level makes a welcome private retreat. In this neighborhood, you'll rarely need a car, but the attached garage provides safety for your vehicle and great space for hobbies and storage.
See Renderings
Past Projects
1313 N Herndon St
Arlington, VA
N Johnson St
Arlington, VA
Franklin Rd
Arlington,VA
S Columbus St
Arlington, VA
Nob Hill St
Alexandria, VA
"

I have loved working with Basata Homes. I've used them for numerous projects, including renovations of three of our bathrooms and our basement and attic. The results have been great each time. They are reliable, dependable and a pleasure to work with.

"

Rebecca Morrison | Lyon Village
"

Having known Ricardo for many years prior to his forming Basata Homes, I know that he is honest, focused on the task at hand, and has developed a strong skillset in construction techniques and business management. Ricardo also has a strong sense of fairness, which is important if, or when, unforeseen circumstances present themselves during construction. For me, there is only one choice to perform remodeling/construction on my Arlington homes. Basata Homes.

"

Tim Wallace | Fort Myers, FL
"

Our home renovation/addition project had several unique requirements; and, because our requirements were outside what most general contractors typically do, their bids were reflective of the risk they perceived in our project. Basata Homes was different. Rick was eager to work with us and complete a project with different technologies. It was very apparent from day one that he had our best interests in mind. Throughout the project, he was always honest and transparent with us. He was very good at offering alternative solutions to problems so we could decide which option would work best for the overall project and budget. We always felt fully engaged in the project and part of a collaborative team. Basata Homes exceeded are expectations. We could not have done this project with any other general contractor and gotten the same results.

"

Amy & Mitch Potter | Arlington, VA
"

We've had a number of significant repairs completed by Basata Homes on our house - complete exterior painting, extensive roof and plumbing repairs along with a complete cleaning and polishing of our marble floors. The results have always been the same - absolute first-rate, quality workmanship, great service and reasonable prices. Call Basata Homes Service today. You can't go wrong with Ricardo and his team. They are real pros!

"

Tim Hayes | Lyon Village
"

In meeting with Basata Homes I was impressed by the patient inquiries made as what I hoped to accomplish in updating an older home which I had purchased. In a series of meetings ideas emerged which responded to my desires but always by offering options highlighted with pluses and minuses for each solution. The ideas offered ranged from minimal to full scale approaches with no pressure to select an answer. Some of the rehab ideas were very simple and some were very creative. A creative solution was offered to update an old bathroom which required closing a hallway and reversing a staircase to create more space and allow for a modern bathroom! All within a reasonable time —delivered when promised and within a reasonable budget! The individual tradesmen and company employees were uniformly skilled, highly motivated and very good guys!!!

"

William D. Dolan III | Falls Church, Virginia
"

A close friend of mine recommended Basata Homes. I have looked to them in the past for projects large and small and their work has always been fantastic. Most recently, I was looking to update and remodel a home I had just purchased and needed a trusted contractor. Basata Homes was my top choice. I am glad they were available to take on my project. The Basata Homes team is professional, reliable, trustworthy, and they go the extra mile to do high-quality work. They coordinated with my architect and all relevant sub-contractors (electrician, plumber, etc) to completely build two new bedrooms, two bathrooms, and a laundry room. In addition to the high-quality work they do, Basata Homes gave me peace of mind. I always felt they had my interest in mind during my project. For instance, when unexpected issues came up during the project, the Basata Homes team presented reasonable options to tackle and address these situations. My project was started and completed just as I was promised, and the quality of work performed was superior. They are reliable, honest, and hard-working, and they do high-quality work at a fair cost.

"

AP | Washington D.C.
Contact Us
Reach out to us if you have a question or ideas for your next project – we're here to help. We look forward to hearing from you!
Ricardo Iglesias
Phone: 1-833-522-3366
Email: info@basatahomes.com